Stonefly
Stonefly is a group from my hometown,Yakima, WA.
I just got Stonefly's new C.D.! It has some great new songs! Keep watchin' for new clips from it! Look under links to find out how to buy it on the web at a great price!
---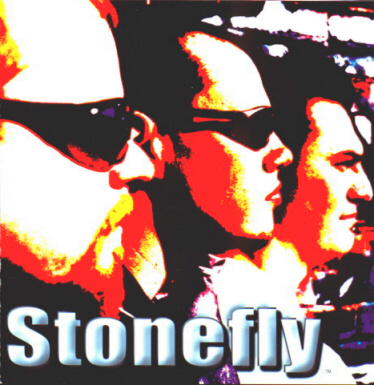 ---
Stonefly clips
All files are Mp3 16 kbps. These were all made with the best CD ripper out there. Music Match Jukebox.

Broken Heart Day
You
Hypocrite
Search
Path
Forest Hut
Circle
Splinter
Mystery Queen
Masquerade
I Bow Down
---
Pics
---
Band Info

Hey I'm living out of town... actually I'm out of state... so I don't know what is going on I'll try to get some info and post it as soon as I can.
---
Links

Stonefly Website: Great Stonefly Site.
Pure Rock Net: Great place to find out how Stonefly's current release is doing on the charts.
Buy it at Buy.com(Cheapest place I found it!)
Trinity Baptist Church: Website for my church.


The bands official web site is currently under construction... Keep watching for it!
---
Contact Stonefly

If you have icq contact me with it.
If not, you need to get it, for now you can use one of the bottom three buttons to get ahold of me. This Site is Powered by the ICQ Respond-Online Panel
---